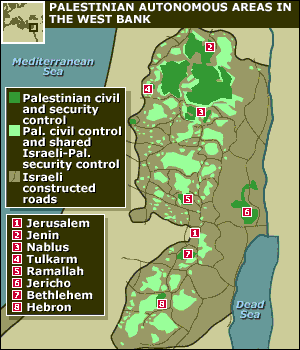 Abbas to fight Israeli orders on West Bank deportations
The military have denied they are planning to deport large numbers of Palestinians
Palestinian officials say they will oppose new Israeli orders on deporting Palestinians from the West Bank.
Last week it was revealed the Israeli Defence Force changed their orders broadening the definition of people they could remove from the West Bank.
Palestinian leader Mahmoud Abbas said he was prepared to take the issue to the UN Security Council, reports say.
He said the order that would affect West bank residents without Israel-approved IDs was "a provocation".
"Israel has no right to deport any Palestinian," Mr Abbas said after a meeting with Egyptian President Hosni Mubarak.
Denied
The new orders allow anyone without Israeli permission to be in the West Bank to be defines as an "infiltrator", making them liable to be removed to Gaza, or to neighbouring states where there are large populations of Palestinian refugees.
But the IDF has denied it is planning to deport Palestinians from the West Bank in large numbers.
Israeli military sources said that anyone registered with the Palestinian population registry - which is overseen by Israel - would be considered lawfully present.
But human rights groups say that tens of thousands of Palestinia
ns, who do not hold Israeli-approved identity cards but live in the West Bank, could be affected.
"The orders are worded so broadly such as theoretically allowing the military to empty the West Bank of almost all its Palestinian inhabitants," a letter written by human rights organisation HaMoked and signed by 10 other groups to Defence Minister Ehud Barak said.


Close to 500,000 Jews live in more than 100 settlements built since Israel's 1967 occupation of the West Bank, including East Jerusalem. The settlements are illegal under international law, though Israel disputes this.
There are around 2.5 million Palestinians living in the West Bank.