Successful disaster preparedness is directly related to the quality of planning, training provided, and the testing that occurs before a disaster strikes. The National Level Exercise 2011 (NLE 11), which will simulate a disastrous earthquake in the New Madrid Seismic Zone (NMSZ), is an opportunity for the private sector and multiple government jurisdictions to evaluate response and recovery capabilities for a catastrophic event. Located in the center of the United States, NMSZ encompasses parts of an eight-state region including Alabama, Arkansas, Illinois, Indiana, Kentucky, Mississippi, Missouri, and Tennessee. Japan has been widely recognized as having the most robust disaster planning of any country in the world, particularly when it comes to earthquakes. In 2010, about 670,000 residents participated in preparedness drills as part of Japan's Disaster Preparedness Day; held annually since the damaging earthquake of 1923, when tremors measuring 7.9 left Tokyo and its suburbs in ruins and killed 140,000 people, according to the Yomiuri Shimbun, a Japanese newspaper.
Time magazine describes just how devoted Japanese leadership and the general public are to disaster preparedness in an online article, How Japan Became a Leader in Disaster Preparation. The general public, including school-aged children, participate in annual mandatory evacuation drills. Japanese leadership has emphasized the importance of mutual aid. Japan's Prime Minister, Naoto Kan, has stated, "I would like to ensure that the government will prepare itself for disaster, together with the people, so that it can confidently say that 'providing is preventing.' " Hundreds of earthquake and tsunami shelters have also been built along the east coast of Japan to protect its people. CBS News describes Japan's Disaster Preparedness Day as a collaborative endeavor, including the military, local police, firefighters, and the United States Navy; that incorporates mandatory evacuation drills, early warning and communication system testing, private sector collaboration, and emergency response activities. Despite these preparedness drills, the 9.0 magnitude quake that hit northern Japan on March 11, 2011, resulted in widespread destruction and loss of life. As of April 4, the Japanese government reported an estimated 135,000 buildings were destroyed or damaged, the number of deaths is 12,087, the number of the injured is 2,876, and the number of missing is 15,552. The number of those evacuated is approximately 206,400. CNN has reported that approximately 6 million households in Japan (more than 10 percent) were without electricity. Multiple media outlets have stated that homes were washed away after a dam failure in Fukushima Prefecture, located on the island of Honshu. Fukushima Prefecture borders the hard-hit Miyagi Prefecture to the South and is also home to the damaged nuclear reactor. The reactor has now leaked radioactive material into the surrounding atmosphere, and radioactive water has filled nearby tunnels, which has spilled into the Pacific Ocean. The Japanese government estimates recovery costs could reach as much as $310 billion.
Japan's experience is an important lesson for the United States because the U.S. Department of Homeland Security Federal Emergency Management Agency (FEMA) has warned that an earthquake in NMSZ could result in "the highest economic losses due to a natural disaster in the United States." FEMA further estimates "widespread and catastrophic" destruction could occur across the eight states that make up the NMSZ. A 7.7 magnitude quake or greater would cause damage to tens of thousands of structures affecting critical infrastructure. According to a FEMA report, Impact of Earthquakes in Central USA, nearly 715,000 could be damaged, 2.6 million households could lose electric power, and casualties could climb to almost 86,000 with 3,500 fatalities. The direct economic losses are predicted to be a staggering $300 billion across the eight-state region.
WHEN:
May 16-19, 2011
WHO SHOULD PARTICIPATE:
Organizations with responsibilities in critical infrastructure protection including Federal, State, tribal and local government agencies; owners/operators; nonprofit agencies; academic institutions; nongovernmental organizations; and other critical infrastructure stakeholders such as trade associations.
BENEFITS OF PARTICIPATING:
• Learn how to better prepare for an all-hazards event
• Build and foster relationships at the Federal, regional, State, local, and tribal levels
• Practice your business continuity plan
• Increase awareness of how to respond in an emergency
• Protect your bottom line—being prepared will result in less downtime and fewer lost employee work hours
UPCOMING MEETINGS:
The NLE 11 Exercise Calendar is continuously updated based on exercise planning and development outcomes. Currently the NLE 11 key dates are as follows:
Great Central U.S. Shakeout April 28, 2011
Functional Exercise TTX May 16-19, 2011
National Recovery Seminar June 2011
Recovery Exercise TTX September 20-22, 2011
QUESTIONS:
For more information about NLE 2011, contact:
private.sectorNLE@hq.dhs.govbuildings
To prepare for a national catastrophic event of this magnitude, the U.S. government has several overarching objectives for NLE 2011. The exercise is meant to test the ability of the United States to:
◆ Offer mass care services (shelter and food) for the affected general populations.
◆ Expand healthcare resources to provide medical personnel and logistics.
◆ Implement recovery processes after a catastrophic earthquake, including establishing recovery priorities, assessing the economic impact, and coordinating and implementing recovery and relief plans.
◆ Maintain continuous information sharing for the duration of the response operation.
◆ Implement an effective national media strategy in response to a catastrophic earthquake.
◆ Ensure that affected populations are safely sheltered-in-place and/or evacuated to a safe refuge area, and are effectively and safely returned following the event.
The disaster in Japan serves as a harsh reminder of the importance of disaster planning and preparedness. In The Japan Earthquake & Tsunami and What They Mean for the U.S., a document prepared for FEMA after Japan's recent earthquake, experts acknowledged that the earthquake damage in Japan was relatively contained in part because the epicenter of the quake was 62 miles from shore, but mostly because Japanese building codes are so restrictive. Although older wood residential buildings suffered the most structural damage resulting in collapse, many of the buildings in Japan remained intact. According to the same FEMA report, nonstructural damage has caused greater dollar losses than actual structural damage. The U.S. Geological Survey (USGS) estimates there is a 25 to 40 percent chance, in a 50-year time span, of a magnitude 6.0 or greater earthquake in the NMSZ. Private sector organizations falling within the NMSZ in the United States do not have the earthquake design standards that are as strict as those in Japan, which makes coordinated preparedness testing even more important. NLE 11 provides a perfect means for the private sector to test disaster recovery and business continuity plans, in addition to providing subject matter expertise in a coordinated response effort with multiple government jurisdictions.
PARTICIPATION ESSENTIALS: HAVE YOU COMPLETED THE FOLLOWING?
✓ Sign up for the Department of Homeland Security, Lessons Learned Web site, which can be found at
https://www.llis.dhs.gov
. Once registered, please subscribe to the channels listed below by e-mailing
Channels@llis.dhs.gov
and provide the name of the channel, the reason you are requesting the channel, and your name. Channels you will need to subscribe to are:
• "National Level Exercise 2011 Channel"
✓ Identify the most appropriate level of play for your organization by choosing one of the following participation options:
• Full Engagement – Planner and Player
• Full Engagement – Simulation Cell (Simcell)
• Leadership Discussion Testbed
• For a complete description of each participation option, please refer to the March edition of the "NLE 2011 Preparedness Matters" newsletter found at
www.llis.dhs.gov
or in the FEMA "Private Sector Participation Guide for the National Level Exercise 2011" document also found on the DHS Lessons Learned Web site.
✓ Download and review the Federal Emergency Management Agency (FEMA) "Private Sector Participation Guide for the National Level Exercise 2011." To access the Private Sector Participation Guide, log onto
https://www.llis.dhs.gov/index.do
. You must have access to the National Level Exercise 2011 – National Private Sector Working Group (NPSWG) channel. Click on NPSWG General Membership link and then locate NLE 11 Participation Guide 8 Mar 2011. If you don't have access to LLIS, please contact
Private.sectorNLE@hq.dhs.gov
or apply directly to
www.llis.dhs.gov
.
✓ Send your contact information to
Private.sectorNLE@hq.dhs.gov
. Please indicate: the desired level of participation, i.e., national or regional/State level; which states are of interest to you to ensure that you are assigned to the appropriate Exercise Planning Team, which of the 18 sectors you represent or are involved with, and other key information needed to design and coordinate your participation in NLE 2011.
✓ Gain access to the Homeland Security Information Sharing Network (HSIN). HSIN is a national secure and trusted Web-based portal for information sharing and collaboration between Federal, State, local, tribal, territorial, private sector, and international partners engaged in the homeland security mission. Membership in HSIN is Community of Interest (COI)-based. To become a member and gain access to NLE 2011 Exercise information, please request access to the critical infrastructure COI. If you need additional information, please contact the Mission Advocate listed as the POC for a particular COI(s), or e-mail the HSIN program at
HSIN.Outreach@HQ.DHS.gov
.
Office of Infrastructure Protection Keeping America Safe, Secure, and Resilient
www.dhs.gov/criticalinfrastructure
Alabama, Arkansas, Illinois, Indiana, Mississippi, Missouri, Tennessee, Kentucky
http://info.publicintelligence.net/FEMA-NLE-11.pdf
.
http://www.ideals.illinois.edu/bitstream/2142/8787/2/New%20Madrid%20Seismic%20Zone%20Catastrophic%20Earthquake%20Response%20Planning.pdf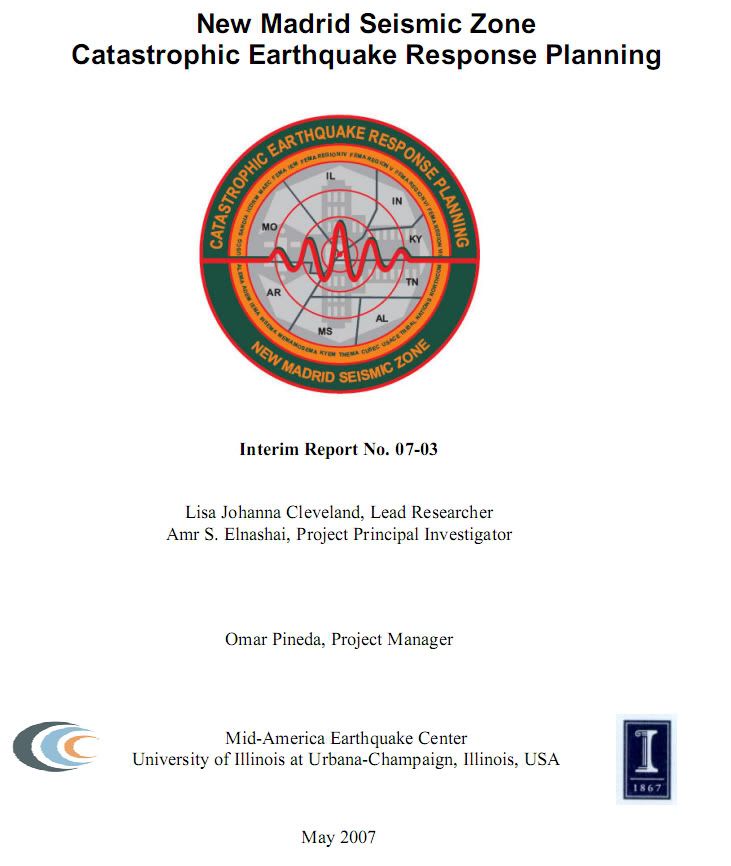 Additional documents:
http://conference.mst.edu/documents/new_madrid_conference/august_13_presentations/Dr._Amr_Elnashi_-_State_and_Regional_Impact_of_Central_U.S._Earthquakes_on_the_Physical_Infrastructure.pdf
EARTHQUAKE PREPAREDNESS: WHAT THE UNITED STATES CAN LEARN FROM THE 2010 CHILEAN AND HAITIAN EARTHQUAKES
http://www.hsdl.org/?view&doc=130876&coll=limited
EARTHQUAKE PREPAREDNESS: WHAT THE UNITED STATES CAN LEARN FROM THE 2010 CHILEAN AND HAITIAN EARTHQUAKES http://www.hsdl.org/?view&doc=130876&coll=limited
Here is an excerpt of the above document revealing that this is part of the
Revolution in Military Affairs
:
Quote

FEMA and the General Services Administration (GSA), as co-leads for Logistics Management and Resource Source Support (ESF #7) are developing a New Madrid Earthquake-specific resource support concept plan. To test our capabilities, FEMA and DOD's U.S. Northern Command (USNORTHCOM) will co-host a Defense Support of Civil Authorities (DSCA) exercise in February 2011 to test the specified and implied logistics tasks for the first 72 hours following a catastrophic earthquake in the NMSZ incident.

The NMSZ Catastrophic Planning Project in its entirety will ultimately produce a number of highly beneficial products including all hazards concept of operations plans for Regions IV, V, VI and VII, and Joint Region/State NMSZ Operational Plans. The Joint Region/State NMSZ Operations Plan for Arkansas has been published in final draft and will be exercised in NLE 2011.

NLE 2011

The National Level Exercise 2011 (NLE 11) is a congressionally mandated series of building block exercise activities designed to educate and prepare participants for a catastrophic earthquake incident in the NMSZ. NLE 11 will test and evaluate the federal government's ability to implement catastrophic incident response and recovery plans in support of state, local, tribal, nongovernmental and private sector NMSZ earthquake response and recovery activities, as well as for individuals, families, and communities. The year 2011 is the bicentennial anniversary of the 1811 New Madrid earthquake, for which the NMSZ is named.

NLE 2011 will be the first NLE to simulate a natural hazard and will provide the framework for the eight impacted states and four FEMA Regions to test and evaluate regional earthquake response and recovery plans. The NLE 11 capstone functional exercise (NLE 11 FE) will occur May 16 – 20, 2011, with targeted exercise play focusing on interaction between state emergency operations centers, FEMA Regional Response Coordination Centers, FEMA's National Response Coordination Center, and federal departments' and agencies' national and regional emergency operations centers. NLE 11 will also examine how these entities interact with and support the broader homeland security enterprise. We have set NLE 11 as a proof of concept for our whole community catastrophic planning construct.

As part of NLE 11, the states will test their response capabilities in the following exercise objectives: communications, critical resource logistics and distribution, mass care, medical surge, citizen evacuation and shelter-in-place, emergency public information and warning, emergency operations center management, and long term recovery. The Rehearsal of Concepts (ROC) Drill was conducted on September 28-30 in North Little Rock, Arkansas, and served as an excellent opportunity for all state and federal stakeholders to come together to rehearse and discuss Concept of Operations to the FEMA Region 6/Arkansas Earthquake Operations Plan. The ROC Drill used the NLE 2011 planning scenario to rehearse the plan.

Evacuee Support Planning

Evacuations are a state or local responsibility – the role of FEMA is to provide support and resources to ensure the safety and well-being of those evacuated. For that reason, FEMA has been developing guidance, gathering resources, and providing planning support to states for 8 potential evacuations. An example of the tools being developed is the Evacuee Support Planning Guide – FEMA P-760 – as well as reimbursement policies for states to host evacuees and tools such as the National Mass Evacuation Tracking System (NMETS).

As part of the planning process, and at the request of the states, FEMA has been:

• Assisting states in identifying potential host states for evacuees.

• Providing technical assistance for the implementation of the NMETS. This system is both manual and computer-based, and is designed to assist states in tracking the movement of transportation-assisted evacuees, their household pets, luggage and medical equipment during evacuations.

• Coordinating with state government-assisted transportation providers to provide manifests.

• Supporting evacuees throughout the evacuation process, both in reception areas as well as host states.

• Coordinating with household pet service providers to ensure that adequate sheltering and services are available during the evacuation.

• Activating and deploying the National Emergency Family Registry and Locator System and activating and deploying the National Emergency Child Locator Center to facilitate the reunification of displaced families and unaccompanied minors affected by an evacuation.

• Coordinating with partner agencies to plan for and provide mass care support to evacuees as they return home and enter permanent housing.

• Addressing the requirements of the whole community, including children, older individuals, people with disabilities, and individuals with limited English proficiency, as well as the groups and organizations that support these groups.

• Activating, at the request of States, the Disaster Case Management program through our Inter-Agency Agreement with the Department of Health and Human Services' Administration for Children and Families, to connect impacted community members to human services resources that can promote families' self-sufficiency and recovery from the disaster.
____________________________________________________________________
So their was an Earthquake in Arkansas 5 months after they had run drills there.
http://forum.prisonplanet.com/index.php?topic=202444.msg1205823#msg1205823
Earthquake in Arkansas 2/27/11
***thank u ninjaman for posting this! How far away from epicenter were you during this event?...
-
MAP 3.8 2011/02/28 05:18:00 35.271 -92.374 4.2 5 km ( 3 mi) NNE of Greenbrier, AR
-
MAP 4.7 2011/02/28 05:00:50 35.265 -92.344 3.8 6 km ( 4 mi) NE of Greenbrier, AR
-
MAP 3.4 2011/02/26 14:35:02 35.276 -92.349 2.9 6 km ( 3 mi) SSW of Guy, AR
-
...Some interesting data here. I will say I believe there's a good chance this 4.7 was jetstream related, look at where the frontal mass of storm and location of seismic event. But where it gets complex is when you input the other significant events 3.4 two days ago and 3.8 18 minutes after the 4.7 ... How I am sensing this is that this area is VERY sensative to seismic activity no matter the reasoning behind what is to blame naturally or artificially...
...Use this current weather/earthquake event to set a reference guide to future forecast,
and think NLE11
. Example is wind speed, what was the max reported wind through this event? I heard 27mph in there but didn't hear anything confirmed higher than that. I felt this event and it was during a period of dense lighting, cloud to ground I saw, with light rain no wind in my vicinity during the time I felt it. Lots of data to overlook including the MiTB...
***that's my reports, and this maybe should be in the weather/earthquake threads...
---
---
(Reuters) - Severe storms and tornadoes moving through the Southeast dealt a severe blow to the Tennessee Valley Authority on Wednesday,
causing three nuclear reactors in Alabama to shut
and knocking out 11 high-voltage power lines, the utility and regulators said. All three units at TVA's 3,274-megawatt Browns Ferry nuclear plant in Alabama tripped about 5:30 EDT (2230 GMT) after losing outside power to the plant, a spokesman for the U.S. Nuclear Regulatory Agency said.
A TVA spokeswoman said the plant's output had reduced power earlier due to transmission line damage from a line of severe storms that spawned a number of tornadoes as it moved through
Mississippi, Alabama, Kentucky and Tennessee.
The NRC spokesman said early information indicated the units shut normally and the plant's diesel generators started up to supply power for the plant's safety system.