Iran denies U.S. accusation of assassination plot
http://www.montrealgazette.com/news/world/Iran+denies+accusation+assassination+plot/5533943/story.html
TEHRAN — An aide to Iran's President Mahmoud Ahmadinejad on Tuesday denied U.S. allegations that the Islamic republic was involved in a plot to kill the Saudi envoy to Washington.
"This is a prefabricated scenario to turn public attention away from domestic problems within the United States," Ali Akbar Javanfekr, the president's press adviser, told AFP.
"The U.S. government and the CIA have a lot of experience in diverting public attention from domestic problems in the United States. We have to wait now to know the details of this prefabricated scenario to know the U.S. government's objectives," he said.
A spokesman for Iran's foreign ministry "strongly denied the false accusation of a plan to assassinate the Saudi ambassador in the United States," according to a statement quoted by the Fars news agency.
"This type of behaviour, based on old, hostile policies by the United States and Zionism, is a ridiculous scenario that aims to create divisions by enemies of Islam and of the region," he was quoted as saying.
"Relations between Iran and Saudi Arabia are based on mutual respect, and such a false accusation leads nowhere and will have no effect on public opinion," he said.
Washington said it had busted a plot conceived at high levels of Iran's revolutionary leadership to kill the Saudi ambassador, and vowed to hold Tehran to account.
The U.S. Justice Department charged two men with conspiring with factions of the Iranian government to carry out a deadly plot to blow up Ambassador Adel Al-Jubeir on American soil.
The criminal complaint named Manssor Arbabsiar, a 56-year-old naturalised U.S. citizen holding both Iranian and U.S. passports, and Gholam Shakuri, allegedly an Iran-based member of Iran's Quds Force.
U.S. Attorney General Eric Holder said the alleged plot was "conceived, sponsored and directed from Iran."
Iran and the United States broke off diplomatic relations more than 30 years ago after U.S. diplomats were taken hostage in Tehran by Islamic students.
Tensions have risen in recent years, notably over Tehran's controversial nuclear activities, which the United States fears is being used to develop an atomic arsenal under the guise of a civilian energy program.
Tehran has repeatedly denied that accusation.
The United States has imposed tough, unilateral sanctions on Iran on top of sanctions adopted by the UN Security Council.
Ties between Iran and Saudi Arabia have also deteriorated this year, principally because of Saudi military intervention in Bahrain to help that country's Sunni regime put down pro-democracy protests by members of the Shiite majority. Iran's population is also predominantly Shiite.
Read more:
http://www.montrealgazette.com/news/world/Iran+denies+accusation+assassination+plot/5533943/story.html#ixzz1aVWzqW60
Iran 'Directed' Washington, D.C., Terror Plot, U.S. Says
http://abcnews.go.com/Blotter/us-iran-tied-terror-plot-washington-dc-disrupted/story?id=14711933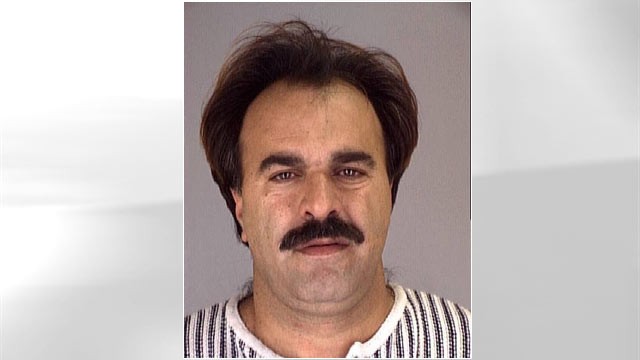 Manssor Arbabsiar, pictured here in a mugshot from a 2001 arrest for theft, has been named
in a federal complaint in an alleged Iran-backed plot to kill the Saudi Arabian ambassador to the U.S.
By RICHARD ESPOSITO and BRIAN ROSS (@brianross)
Oct. 11, 2011
FBI and DEA agents have disrupted a plot to commit a "significant terrorist act in the United States" tied to Iran, federal officials told ABC News today.
The officials said the plot included the assassination of the Saudi Arabian ambassador to the United States, Adel Al-Jubeir, with a bomb and subsequent bomb attacks on the Saudi and Israeli embassies in Washington, D.C. Bombings of the Saudi and Israeli embassies in Buenos Aires, Argentina, were also discussed, according to the U.S. officials.
U.S. Attorney General Eric Holder said in an announcement today that the plan was "conceived, sponsored and was directed from Iran" by a faction of the government and called it a "flagrant" violation of U.S. and international law.
"The U.S. is committed to holding Iran accountable for its actions," Holder said.
READ: U.S. Complaint in Alleged Iran-Directed Terror Plot (PDF)
FBI Director Robert Mueller said the arrest of a suspect in the plot shows the U.S. will "bring the full weight of [the] law to bear on those responsible" and that "any attempts on American soil will not be tolerated."
Senior White House officials said the U.S. currently does not have any information indicating that either Iranian Supreme Leader Ayatollah Ali Khamenei or President Mahmoud Ahmadinejad necessarily knew about the assassination plot and said the U.S. will pursue a path of response that would not include the possibility of an armed conflict with Iran.
Shortly after Holder publicly announced the foiled plot, the U.S. Treasury announced it was initiating sanctions against five people allegedly connected to the plot.
The stunning allegations come against a backdrop of longstanding tensions between Iran and the United States and Saudi Arabia. In the last year, Saudi Arabia has attempted to build an anti-Iran alliance to push back against perceived aggression by Iran in the region.
An Iranian representative in Washington, D.C., told ABC News the U.S. government's story was "fake" but declined to provide any other information.
In a pair of reports on different Iranian state-sponsored news outlets, Iranian officials rejected the charges, calling the plot a "prefabricated scenario" and the start of a "new propaganda campaign against Iran."
The State Department has listed Iran as a "state sponsor" of terror since 1984. Officials in Argentina have said Iran was behind an attack on the Israeli embassy in Buenos Aires in 1992.