Hi All..
About Charlie..
Charlie Veitch accepted an all expenses paid trip to the US to Re-Educate himself on 911. He now rejects the so called "conspiracy theory" for the official conspiracy theory that's touted by the US administration. It's worth saying that Luke Rudkowski and others were offered to do this for the BBC before Charlie and they decided to tell them to Jump in a lake. It's a real shame that someone like Charlie can fall for money and maybe fame to compromise their principles.
PLEASE ALL : Have A look.. Please Comment.. VERY Confused???
BUT ALSO AT THE SAME TIME Charlies girlfriend Silkie hosted Richard Gage in Cambridge University on the 18Th June while Charlie was in the U.S PICKING UP HIS DEBUNKING LESSIONS.. … Explain that one?.. THIS IS VERY STRANGE TO SAY THE LEAST
how does the sovereign independent know this... cause we brought over Richard gage and Luke to do a Celtic tour before sending them down to cambridge on a midnight train to hook up with charlies crew... so they have Richard speaking but at the same time Charley is in the U.S. LEARNING THE ESTABISHMENTS VERSION
Videos Here..
http://www.sovereignindependent.com/?p=22626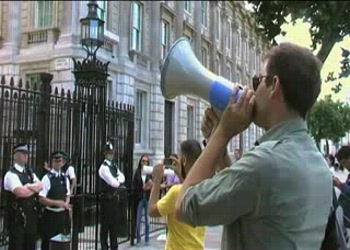 His middle name is Torres.
Some think he was a LIAR and a SHILL from the very beginning.
http://www.youtube.com/watch?v=37Vs-AvdEWM
On this video uploaded
March 30, 2010
by Charlie Veitch himself titled, "Charlie Veitch exposes Charlie Veitch", (where he presumably attempts to debunk people that doubt his identity); he states that his full name is 'Charles Torres Veitch' and his father's name is John Veitch, a Marine pilot born in Scotland in 1943. He claims he was born in his mother's home country of Brazil, and he films his alleged birth certificate
@ 3:30
as 'proof'.
@ 5:50
he again states his full name is '
Charles Torres Veitch
' and attempts to further verify this by showing his Brazilian and British passports. His first name is misspelled "Chales" on the Brazilian passport
@ 6:04
.
http://www.youtube.com/watch?v=UE1UZWrfMJ8
Last year at the G20 meeting in Toronto Canada, 'Charlie' was arrested for not providing identification while filming in a restricted zone, as seen in this film uploaded
June 26, 2010
.
@ :22
in this video the MSM reporter notes that an
ANDREW
Veitch was arrested.
@ :37
, the cop says that he was arrested because he didn't want to tell the police who he was. You can watch the raw part of the video
@ 5:48
where he dances around the identification issue with the cop. Another cop states that he would be released as soon as they determined who he really was (which apparently was
ANDREW
Veitch).
http://www.youtube.com/watch?v=nyuIeZw8dss
In this video from the G20 meeting Veitch asserts to another officer that he didn't have any ID on him, because he was an agent provocateur working for
British Military Intelligence
. Did this encounter occur after the arrest that I posted above? I don't know for sure, but it seems to make sense if it was, especially if the cops were briefed about his/their presence the following day.
A bio for BBC documentary film maker Andrew Veitch (Sr??) can be found here:
http://www.realone.org/
Notice any similarities to him and Charlie?
At first I wasn't sure how legit that site was since there wasn't much info on it, but this little gem of information stood out.
Quote
Veitch would write more for print media if he wasn't so lazy, speaks at conferences if he absolutely has to, and in his spare time helps to run the stunningly-successful Saturday market in Broadway Market, Hackney, East London.
http://www.youtube.com/watch?v=XhSP3Wn9XpI
A brief trip to YouTube reveals Andrew Veitch TALKING about Broadway Market on
March 14, 2010
. Notice any similarities (specifically speech patterns and face) to him and Charlie???
It could be an uncle or something, but at this point I kind of doubt it. I think that is 'Charlie' Veitch's real daddy.
Thus, some think the most likely option is that 'Charlie' Veitch = Andrew Veitch Jr. = paid shill = disinfo agent from the very beginning.
Charlie Veitch Parroting Outdated Official Claims Regarding WTC7
http://911debunkers.blogspot.com/2011/07/charlie-veitch-parroting-outdated.html