2011 Bahraini uprising: Bahrain's rulers commence the trials of

48 medical professionals

, including some of the country's top surgeons, a move seen as the

hounding of those who treated injured protesters during the popular uprising which was crushed by the military

intervention of Saudi Arabia. (Al Jazeera)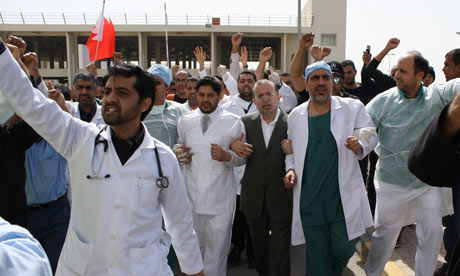 "The net effect of this, including the detention of the doctors and the medical personnel, the net effect for the patient is some patients are very fearful, and they don't know where to go when they are sick and injured, [or] if they are injured in these protests."
Michalski said wounded patients should be entitled to treatment, regardless of "what side" they were on.
"Medical personnel should be allowed to deliver that treatment in an impartial manner," he said.

Bahrain is ruled and dominated by a Sunni minority, Bahrain has a Shia majority population. Tension between the two communities has been festering for years.
To balance the population, the government is accused of granting thousands of citizenships to Sunni workers.